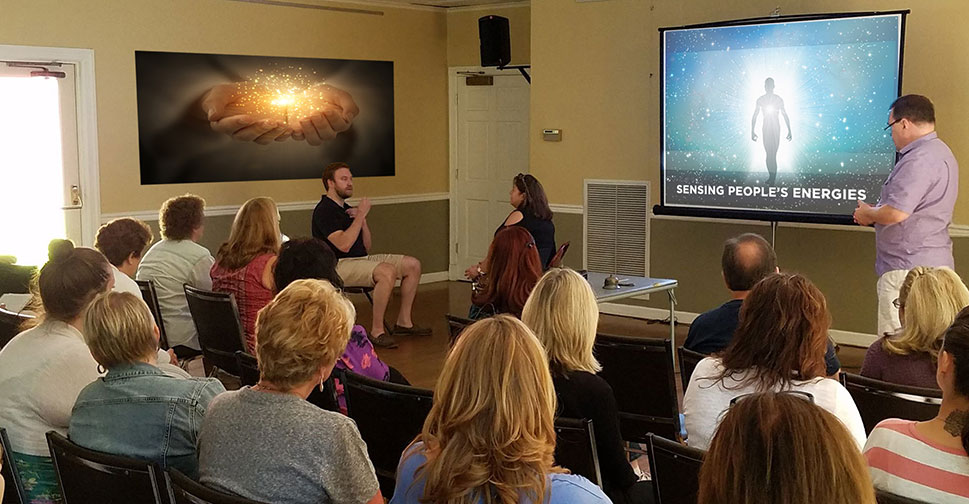 Exploring Psychic Awareness Class



with Medium Craig McManus
NEXT CLASS COMING WINTER 2020

My next Exploring Psychic Awareness Class will be held in the beginning of 2020, date TBA. This class is a great fit for those who think (or know) they have some ability. It took me about 25 years working in the field to gain a good understanding of a very abstract part of life. I created this "101" level class, where I will share my personal experiences as a psychic medium, to bring understanding and insight to those who share this gift.
During my career as a psychic medium, people have often asked me, "What does it feel like to be psychic?" or "How does a person know when they have psychic ability?" Clients have confided that they have psychic ability but are either unsure of how to use it or afraid to use it. A great number of people have some form of psychic/intuitive awareness. Unfortunately, this natural ability does not come with an owner's manual.
In this 3-hour class (there is a 30-minute break) I will talk about natural intuitive vs. psychic abilities, explaining various kinds of ability, the experiences some of you may be having, and how to incorporate this gift into everyday living to enrich your life experiences. There will be a lot of group interaction with this beginner's-level class. Activities will include a group meditation, a grounding exercise, psychometry, an overview of body energy and some basic instruction for connecting to your higher energies.

As with any discussion relating to psychic and intuitive ability, experiences are very subjective. In this class, I will give an overview of the subject matter, without getting into specifics regarding psychic training. That intermediate-level class will be offered in the future to attendees wanting to continue their psychic journey. That class will only be offered to people who have taken the Exploring Psychic Awareness Class. As mentioned above, I will be sharing my own experiences in this class, and you will see that there is a common denominator to psychic ability that will resonate with many of you.
Taking this class does not offer, guarantee or make any claim that attendees will have true psychic experiences during the session or enhanced psychic abilities after the session. This class it is meant as a general guide to psychic ability. One of the things I will stress in this class is that important decisions, legal, medical or otherwise, should never be made using psychic or intuitive ability. Always consult experts in the field about such matters. The purpose of this class is to explore psychic awareness, and to allow attendees to use the knowledge to enhance their life experiences.
Seating is limited. This class is not suitable for children and is limited to those age 18 and over.
Please note, this is not a Hermitage event. Do not contact the Hermitage about tickets or information. The class is only being held at the Hermitage hall. For any questions please contact Willy Kare at my office at 201-493-0772 or by email.
*Tickets are non-refundable but are transferable. An additional e-ticket processing fee of $7.12 will be added at checkout.

---
DISCLAIMER: Enrolling in Craig's class does not guarantee enhanced psychic/intuitive ability. These classes do not offer any kind of medical or legal advice or services and should not be used in place of any existing or needed professional or medical care. Classes are for entertainment purposes only.