WELCOME! You've landed on my special channeling events and tours page because I don't want you to miss out on some great events coming up this season. My 2018 events will be listed below as I add them. Please enjoy all the pages on this site. If you are interested in learning more about my channeling or booking an appointment with me, check out the "private and group channeling sessions" page. For you paranormal fans I created a special section on ghosts and hauntings, along with blogs about some of my favorite haunts. Whether you're psychic, haunted or just want to expand your awareness, I think you'll find lots of things of interest here. Thanks for stopping by! – Craig
I will be listing more fall events at the end of August. Please keep checking back!
Psychic Tea at the Hermitage
SOLD OUT

with Medium Craig McManus 
Sunday, September 23rd  1 pm – 4 pm 
Join me as I return to the Hermitage in Ho-Ho-Kus, NJ to host another Psychic Tea on September 23rd. The Psychic Tea commemorates the Rosencrantz family's "Tea with Ghosts" – as one newspaper reporter coined – when the family ran a tea room at the Hermitage a hundred years ago.
The first part of the event is a fabulous High Tea, catered by Sally Lunn's Tea Room in Chester, New Jersey, renowned for their authentic high tea experience. After the tea, I will move around the room to where I feel a spirit of a family member or friend waiting to communicate. Not everyone will be read during the two-hour channeling session, but both participants and spectators will enjoy this wonderful afternoon.
Seating is limited to 60 people and tickets must be purchased in advance. This event is not suitable for children under 16. Tickets to this event can be purchased here.
As part of this special fundraiser, you may tour the Hermitage Museum, a historic Gothic Revival house and National Landmark, prior to the start of the event starting at noon. A part of the proceeds benefits the Hermitage Museum, a National Historic Landmark. Please note that tickets are nonrefundable 7 days prior to the event.
---
GHOST TOURS in CAPE MAY, NJ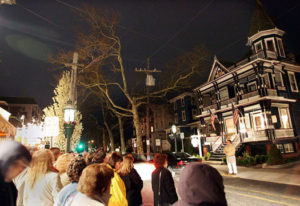 I will be returning to Cape May for two weekends of Ghost Tours this October. All tours have limited spots available, so grab your tickets ASAP. These tours are sponsored by the Mid-Atlantic Center for the Arts (MAC) and tickets can be purchased on their website at HERE
OCT 5:    Ghost Walk with Craig McManus 6PM   TICKETS
OCT 5:    Ghost Walk with Craig McManus 9PM   TICKETS
OCT 19:  Ghost Walk with Craig McManus 6PM   TICKETS
OCT 19:  Seance at the Physick Estate – SOLD OUT
OCT 20: Ghost Walk with Craig McManus 6PM  TICKETS
OCT 20: Ghost Walk with Craig McManus 9PM  TICKETS
Walking tours are evening tours and require walking down darkened streets and sidewalks. These tours are not recommended for young children. Bring a flashlight and wear comfortable shoes. We do not go inside any of the houses on the walking tours. Routes change for each tour. Audio/video recording of Craig conducting the tour is prohibited. Cameras taking pictures of locations on the tour is OK. Limited availability for spots on each tour. Tours may sell out without notice.
---
Channeling Dinner at Historic Cold Spring Village

Friday Night October 12 6:30-10PM
at the Cold Spring Grange Restaurant
733 Seashore Road, Cape May, NJ

I always love the energy at Historic Cold Spring Village in Cape May. Dr Joe and Annie Salvatore have assembled an amazing collection of rescued and restored historical buildings on this large property. It is a fabulous open-air museum with a few ghosts to boot! This event, however, concerns not the ghosts, but your friends and family in spirit.
I will be returning to HCSV for another Channeling Dinner on Friday night October 12. Seating is limited (for the living) but all of your friends and family in spirit are welcome to attend! I will not be reading for everyone in attendance, but will try to read for as many people as possible in the two hours allotted for the channeling.
A delicious buffet dinner will be served before the channeling session. Tickets must be purchased in advance. Fall is a great time to visit Cape May. Come make a weekend of it! Tickets can be purchased through the HCSV website's event page. Make sure you scroll down and click BOOK NOW at the bottom and then choose the channeling dinner.
DISCLAIMER: By attending an event with Craig McManus you are agreeing and understand that Craig is not a medical expert or attorney and cannot give legal advice or medical diagnosis. Craig will not be held responsible for any action or decisions you make pertaining to your life using your free will. Services are not to be used in place of any professional, medical, financial, or legal counseling. Craig is not responsible for any decisions you make as a result of a service with him. Your consultation is subject to your own personal interpretation.
---