Craig does both private and group channeling sessions with clients for up to 10 people. Please read the information below to learn more about a typical channeling session with Craig.
COVID-19 concerns: Please note that Craig has now been vaccinated with the two-dose Pfizer vaccine for COVID-19.
In-person groups must allow for social distancing between group participants. Masks are strongly suggested, but that option is left at the discretion of the person hosting the session, as some groups may be family members who normally live in the same home and many people have now been fully vaccinated. Because Craig does not know who will be attending each session, he asks that each host use whatever social distancing guidelines he or she feels is necessary to promote a safe environment for all attendees. Craig will abide by whatever social distancing and mask-wearing rules the host requests. If group hosts have any questions about social distancing or wearing masks at a session, please ask before Craig arrives at your home. If you are uncomfortable with having an in-person session at this time, please contact Willy at Craig's office to change your session to a phone session or to reschedule to a later date. Thank You.
What will happen during a session?
During a session, Craig will tell you when he senses a loved one. He will relay information from that person and act as an intermediary in the conversation between you and your loved ones. Upon request during the session, Craig can attempt to bring through a person of particular interest to you, but cannot guarantee everyone you want to hear will come through in the session. Craig does not control who comes through in a session.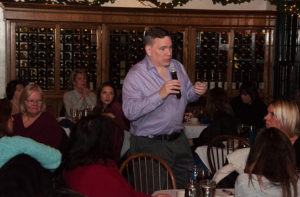 People can be skeptical about things in life, but a closed mind will ruin a channeling session by shutting down the energy. Whatever Craig receives from Spirit, he will relay to you. If some of the information does not make any sense at the time of the reading, it may make sense later.
Sometimes people will suffer from "psychic amnesia" during a session – forgetting all of their friends and loved ones who have passed. Eventually this block clears and names and information start to make sense. Some information may even need to be validated with older relatives who may be more familiar with older generations in the family who have passed. A channeling session can be a great life experience, but it is important to come in and leave with an open mind.
There is more to life than the four walls we see around us. When we are open, greater energies exist that are within our reach. Your friends and loved ones on the Other Side can help you connect with these higher energies and make your life richer.
Channeling requires tremendous mental concentration and is quite draining for a medium. If you have specific questions to ask, you should let Craig know during the session.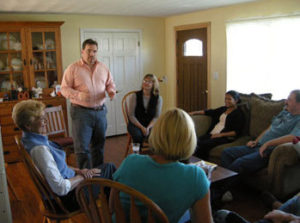 There are certain types of information that will not come through. Craig will not offer medical or legal advice during a channeling session. He is neither a doctor nor a lawyer. Please seek these professionals out should you require that type of expertise. One should never base any major life decisions strictly on information that comes through in a channeling session.
Think about what questions you have for your guides and loved ones before they come through.
We are all connected with our higher Spirit energy. Craig is just the operator helping to complete the call.
Channeling Sessions for 1-10 People
Channeling sessions are held at private homes or other venues for one to ten people. If you want to focus exclusively on your own energy, Craig suggests doing a one-on-one session or a small group with just family members. Doing a group with all family members helps to focus the energy in one direction, versus having six to ten people who are not related which brings different families and energies into the mix.
During a session, different energies will come through. While Craig tries his best to bring everyone through, some loved ones simply cannot make it. Just as we are busy in our daily lives, our loved ones have lives on the Other Side as well. It is up to the folks on the Other Side to decide who will come through to communicate. A Medium has only so much energy for one session. Craig brings through as many people as he can during a group session, but he does not promise to get something for every person in the group. You will be either a participant or a spectator during one of his group sessions. Being a spectator can be a great life learning experience as well, since the energies and messages coming through may apply to all present. If you want more about you and your immediate family, keep the group small.
An in-person channeling session for 1-6 people is $500
An in-person channeling session for 7-10 people is $700
The size of the group cannot exceed ten (10) adults
A travel charge may apply
Channeling sessions are not recommended for children under 16. The group should all be willing participants or at least everyone should be open-minded. Having someone in the group who is a raging skeptic will dampen the energy for everyone. It is best to invite only those who are truly into the channeling experience. Since group sessions are done in person, there is a physical distance limit to how far I can travel to do a group session. Contact my office to find out if I can come to your location. The session should be done in a place that is quiet and without any distractions, like children running about or someone in the next room watching television. It should be somewhere in your home that has comfortable seating for everyone and generates a relaxed environment where we can all focus on the Spirit communications coming through.
Those who live outside of Craig's traveling area can book a phone session.
Phone Sessions

Phone sessions are limited to one or two people per session. The price for a 90-minute phone session for one or two individuals is $400. Please note that payment for phone sessions is due one week (7 days) prior to your session. Failure to make payment by the due date will result in your session being forfeited.
Phone sessions are for 1 person or 2 people
Craig cannot read for a group (more than two) of people over the phone.
Please choose a QUIET, distraction-free spot to have your phone session. Choose a place where other household members will not be using the room as a thoroughfare. This means, no TV, no music, and no phones going off in the background.
If you have specific questions during the session, please ask them before the 90-minute session is finished.

---
DISCLAIMER: By scheduling an appointment with Craig McManus you are agreeing and understand that Craig is not a medical expert or attorney and cannot give legal advice or medical diagnosis. Craig will not be held responsible for any action or decisions you make pertaining to your life using your free will. Services are not to be used in place of any professional, medical, financial, or legal counseling. Craig is not responsible for any decisions you make as a result of a service with him. Your consultation is subject to your own personal interpretation. Please note that there are no refunds to the buyer once services have already been rendered.